LTS Support Team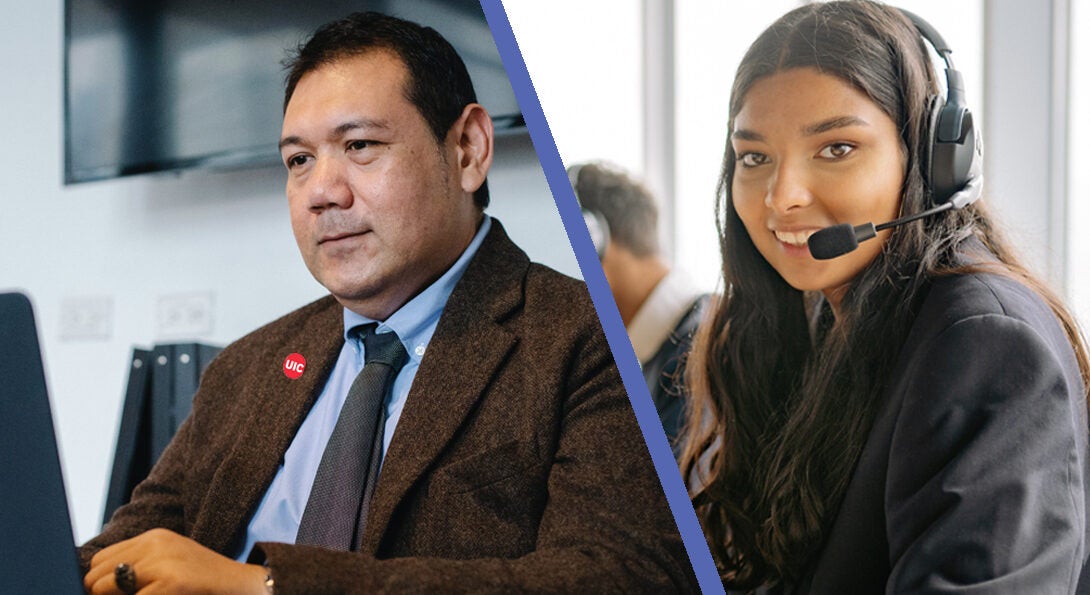 Left
Educational Technologies (EdTech)
Faculty support for incidents and requests for access to teaching with technologies such as Blackboard, VoiceThread, Echo360, Panopto, etc., and the technologies in centrally-managed classrooms.
Visit UIC Help Center for Teaching and Learning services – Find answers, submit requests or incidents
Email LTS@uic.edu – Requests are responded under two business days unless in-person training/discussion is required, or escalation to the vendor is required
24/7 – Call 312-413-0003 option 1 – If you leave a message, a ticket will automatically be created on your behalf and we will follow up with you
24/7 – Live Chat in Blackboard – login to Blackboard and under Home click on "Chat live with Blackboard support for UIC"
Visit us at Stevenson Hall 111.

Hours: Monday – Thursday:  7:30 am to 9 pm; Friday: 7:30 am to 7 pm
Right
Short Term Equipment Lending for Students
We provide short-term loans of various equipment to support the academic needs of students and faculty. Learn more about short-term-lending.
General Technologies
Technology Solutions, central IT for UIC, supports general technologies used by everyone such as Box, Zoom, Microsoft 365, Exchange, Google Workspace, and UIC NetIDs and passwords. Learn more at it.uic.edu
Classroom Tech Support
Many UIC classrooms have technology to help instructors present their information. In-classroom support is  provided by students recognizable by their LTS/CATE branded t-shirts who are available to assist with basic IT questions, can help in setting up the AV system, or various ed-tech questions such as Echo 360 and Zoom if instructors are having trouble. Learn more on the Classroom Tech Support page.
Left
Requests
Instructors should expect a response soon after it is received, but at least within two business days, unless in-person training/discussion is required. Please allow one week to process special requests such as course copies, course restoration, and course quota increase, Echo360 recording scheduling, etc.
Incidents
For incidents, instructors can expect a response within four hours, and resolution within two business days, unless escalation to the vendor is required.
Right
Modified Service Levels
Given the high volume of calls received at the beginning of each semester—one week before and two weeks after the start of each term—instructors will experience longer wait times when contacting this team by phone. We recommend reporting a problem via the UIC Help Center if the wait time on the phone is too long.
The LMS Governance Board has approved a modified SLA of three business days for regular requests to be processed during this period. Please plan accordingly.